DOWNLOADS
| | | | | |
| --- | --- | --- | --- | --- |
| | Figure 1: Example of continuous odour monitoring graph | | Figure 2: Example of odour mapping | |
| | | | | |
Air-Water Treatments Ltd Consultancy Services
The Team
Air-Water Treatments Ltd comprises of a team of environmental engineers, chemists and process engineers from water utility operational and consultancy backgrounds and health & safety professionals.

Company Profile
• Air-Water Treatments Ltd offers environmental consultancy specialising in BAT Assessment, odour/noise monitoring and quantification in the wastewater, food and waste industries
• Air-Water Treatments Ltd implements odour control design management
Air-Water Treatments Ltd has over twenty seven years of accumulated experience of quantifying and resolving odour abatement issues and includes a consultant who is an active expert witness.

Food Plants, Waste Sites, Sewerage / Wastewater Treatment Works,
Pumping Stations & Sewerage Networks – Odour & Ambient Noise Surveys
Air-Water Treatments Ltd provides competitively costed odour and noise quantification services that aim to provide representative, reliable data. These results are interpreted into reports that serve two functions:
· To allow target cost effective abatement measures and;
· To demonstrate the client's commitment to resolve issues to local residents and regulatory authorities.
Air-Water Treatments Ltd can provide further engineering advice to meet the technical requirements of odour abatement notices and planning requirements.
Surveys consist of quantification and characterisation of existing odour emissions and nuisance from a site in
order to identify potential points of odour nuisance and design/size the appropriate abatement measures.
Odour surveys can include:
· Odour mapping
· Olfactometry
· Spot sampling
· BAT Assessment
· Continuous monitoring
· Liquid sampling
Air-Water Treatments Ltd has a wide inventory of equipment for spot/continuous sampling of a range of determinants including hydrogen sulphide, combustion gases, ammonia and volatile organic compounds (VOC's).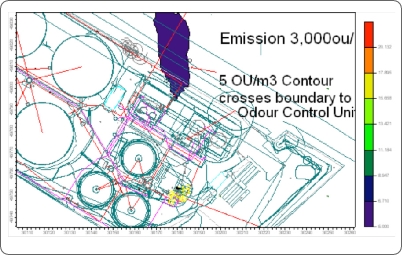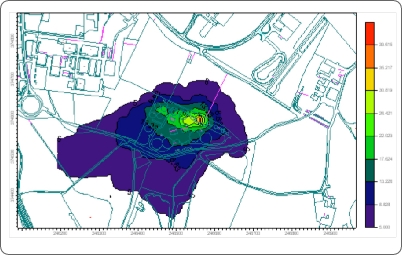 Figure 3 & 4: Examples of odour dispersion model plots
Investigation, Feasibility & Strategy Studies
Using a combination of monitoring/site assessment, process engineering techniques and actual implementation experience, different options for sewerage system/site odour abatement can be assessed in terms of effectiveness, cost and long term viability. Recommendations can then be made for the most appropriate solution, and if required trials of promising solution organised. Such studies can be undertaken as a valuable input into a larger study for example as part of a regional sludge disposal strategy.

Odour Dispersion Modelling
Atmospheric dispersion modelling combines estimates of odour emission from a site with topographical and historical meteorological data to predict odour nuisance at surrounding points of interest. Air-Water Treatments Ltd. can carry out such studies including provision of the necessary models and selection of the appropriate odour annoyance criteria. Dispersion modelling serves the following purposes:
• The comparison of odour impact from a number of different treatment plant process and layout options: and/or
• The demonstration of compliance with regulatory requirements and as an input into discussions with planning authorities.
| | |
| --- | --- |
| Anglian Water Services | United Utilities |
| Galliford Try | JDM Foods |
| Premier Waste | KMI Water |
| Dwr Cymru Welsh Water | Costain |
| Interserve Prjects Ltd | 4D |
| Imtech Process | Cranswick |
| Cargill (Sun Valley Foods) | Cargill |
| Volac International | J Murphy & Sons |
| Haya Water (Oman) | Morgan Sindall |
| Montgomery Watson Harza | QinetiQ |
Septicity Prediction & Control
Air-Water Treatments Ltd has computer models for predicting sulphide development from actual or planned sewerage systems. The results can be used to estimate odour impact at points of discharge and can be further calibrated with site sampling for dissolved sulphide. The model also has the ability to calculate required chemical doses for septicity control/prevention, for the example the use of nitrate salts.
Selection and Assessment of Odour Abatement Options and Ventilation Rates
Advice can be provided regarding the sizing of odour extraction rates from odorous sources and the appropriate abatement technology (be it physical odour abatement plant, chemical dosing or process modification) using a combination of the techniques above specifications incorporating appropriate odour characterisation and strength data are generated.
If required, feasibility studies to determine the most effective option can be carried out with reference to process, cost, engineering and safety issues. Air-Water Treatments Ltd can carry out trial and pilot studies to determine the most appropriate solution.
Odour Abatement Plant Testing
• Design of testing schedules
• Abatement plant efficiency testing using a range of determinants
• Continuous monitoring of abatement plant efficiency
• Design of remedial/upgrades for odour abatement plant

Current and recent Air-Water Treatments Ltd clients include:


Leading Specialists in the Field of Odour Abatement